Displaced Films was created in 1994 by David Zeiger. A decade later, the company is still young, vibrant, and breathing heavily.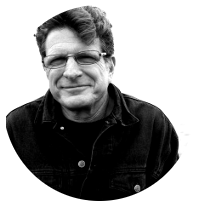 David Zeiger- Director/Writer/Producer:
David Zeiger received a 2010 Guggenheim Fellowship for his debut narrative feature, Sweet Old World, which premiered in 2012 at the Atlanta Film Festival and is distributed by Passion River Films.
With a development grant from the National Endowment for the Humanities, he is currently in production on a feature documentary, May 1970, telling the story of the nineteen sixties student movement and the government's attempts to suppress it.
His 2005 film, Sir! No Sir!, premiered at the Los Angeles Film Festival where it won the Audience Award for Best Documentary. It went on to win Best Documentary at the Hamptons International Film Festival, the Seeds of War Award at the Full Frame Documentary Film Festival, and Best Film on War and Peace at the Vermont International Film Festival. It was nominated for Independent Spirit, International Documentary, and Gotham Awards. The film garnered rave reviews during its 80-city theatrical run, including "Two Thumbs Up" from Ebert and Roeper. Manohla Dargis called it "Smart and timely" in the New York Times, and the New York Daily News wrote "This is powerful stuff, offering us not only a new look at the past, but unavoidably relevant insights into the present." It has been broadcast on television worldwide, including the BBC, CBC/Canada, ARTE/France, and ABC/Australia, and the Sundance Channel in the U.S.
He followed that up in 2008-09 with the web series This is Where We Take Our Stand, that tells the story of "Winter Soldier/Iraq and Afghanistan," an event in which 250 veterans of those wars gave testimony condemning them. In December 2009, he was awarded full funding from PBS's Independent Television Service to turn the series into a film for a 2011 broadcast.
Zeiger created, produced and directed the landmark 13-part documentary series, Senior Year, for broadcast on PBS in January 2002. The series follows a group of 15 students at Fairfax High, the most diverse school in Los Angeles, through their last year in high school. About the series, Entertainment Weekly wrote, "Others have tried to document high school life, but this series succeeds where those drier efforts failed…High school is a time for experimentation, and finally, a truly experimental filmmaker is there." Funded by CPB, NAATA, LPB, and the MacArthur and Kellogg Foundations, Senior Year was broadcast in Europe on Planete Cable, and was a premiere series on the new U.S. English/Spanish cable network SíTV in 2004.
His short film Funny Old Guys premiered August, 2002, at the Museum of Television and Radio in Los Angeles. Its television premiere was August 19, 2003, on the HBO Documentary series "Still Kicking, Still Laughing." Funny Old Guys captures the final months of the life of Frank Tarloff, formerly blacklisted Academy Award winning writer, as he and a group of friends, all former TV and film writers, confront his imminent death.The Band, Mr. Zeiger's tribute to his son, aired to critical acclaim on the PBS series P.O.V. in 1998. It has screened at the International Documentary Filmfestival Amsterdam and AFI Film Festival in Los Angeles, and was awarded "Best Documentary" and "Best of Show" at the Central Florida Film Festival. The Band was broadcast in 2000 on the French/German network ARTE.
David Zeiger
3421 Fernwood Ave. Los Angeles, CA 90038 213-595-1561 displaced@mindspring.com
Atlanta 1988 – 1998
Exhibits
A Sense of Community as seen through Atlanta's Photographers
City Hall East Gallery, Atlanta. November, 1993
Barriers, Boundaries and Borders – The Landscape of Limitation
Delaware Center for Contemporary Art. Group Show. September, 1993
Border
Photographs from the U.S. / Mexico Border, Mexican Cultural Center, Mexican consulate. Individual Show. April 1993
Family Portraits
The Theatrical Outfit, Atlanta. Individual show. April 1992.
Displaced in the New Shout – Immigrants and Refugees in North Georgia
Colony Square and Atlanta Fulton Library, January – March 1992 Gainesville College Art Gallery, August 1993
Across the Borderline – Atlanta's Northern Perimeter
Portraits and collages from the suburbs. Atlanta Photography Gallery "Granted", January February 1991
Altered States – Ten Georgia Photographers
Georgia Museum of Art, Athens. September 29 – October 8, 1990
Photomodern
1990 Atlanta Arts Festival. Piedmont Park. September 1990. Photo sculpture entitled In the land of the blind, the one-eyes man is king.
Here at the Edge of the Stage
Photo mural by the Fotografitti group on outside wall of Seven Stages Theater.
Midtown
Photo mural by the Fotografitti group on outside wall of Seven Stages Theater.
The Atlanta Arts Festival, 1989
Fotografitti exhibit covering the outside of the Bathhouse.
A Political Art Show
Installation with Irene Ledwith at the juried exhibition by the Mattress Group for the Democratic National Convention. Summer 1988.
The Democratic Process
Juried exhibit drawn from The Heart is On, photographic project sponsored by the Atlanta Photography Gallery during the Democratic National Convention in Atlanta. Fall, 1988
Grants
Fulton County Arts Council
1989 – Individual Artist Grant of $2,500 for Here at the Edge of the Stage theater wall.
1991 – Individual Artist Grant of $2,500 for Displaced in the New South photo exhibit.
1993 – Media Grant of $10,000 for Displaced in the New South film.
The Harland Foundation – 1992
$10,000 Grant for Displaced in the New South film.
The Pittulloch Foundation – 1993

$8,000 Grant for Displaced in the New South film.
Atlanta Bureau of Cultural Affairs – 1990

Individual Artist Grant of $1,500 for Midtown.
Georgia Council for the Arts

1991-Individual Artist grant of $1,000 for Across the Borderline – Atlanta's Northern Perimeter
1993-Media grant of $2,500 for Displaced in the New South film
Georgia Endowment for the Humanities – 1994
$20,000 for Displaced in the New South film
Paul Robertson Fund for Independent Media
$5,000 for Displaced in the New South film
Collections
Polaroid Corporation
American Cancer Society
Georgia Historical Society
Awards
Atlanta Committee for the Olympic Games Cultural Olympiad Regional Designation Award -1994
Education
Washtenaw Community College photography program – 10/85 – 9/86<
Georgia State University photography program with John McWilliams – 1/87 – 9/87
Friends of Photography workshop on the photograph as document – Summer
1986. Teachers included Mary Ellen Mark, Eugene Richards and Lee Friedlander
Professional Work
I worked full time as a freelance photographer, specializing in theater and magazine work. Clients include:
Alliance Theater Company, Atlanta – Staff photographer
Center for Puppetry Arts, Atlanta – Staff photographer
American Theater Magazine, New York – March 1991 cover
Atlanta Magazine – Regular photographer
American Heritage Magazine, New York
Science News, Washington, DC
High Museum of Art, Atlanta – Catalog photographer
Smithsonian Institution, Washington, DC – Catalo photographer
Actors; Express, Atlanta – Staff photographer
Atlanta Opera – Publicity photographer
Atlanta Ballet – Publicity Photographer
Evangeline Griego, Producer
Evangeline Griego is a veteran independent filmmaker, director, and media activist. Griego produced a series of short films for the Skirball Cultural Center's upcoming exhibit Light & Noir and she recently produced the independent feature, Sweet Old World. Evangeline's other producing credits include award-winning documentaries Chevolution, Sir! No Sir!, Calavera Highway, My Journey Home, and the PBS series, The New Americans. As director, Griego's documentary God Willing aired nationally on PBS. Previously, she directed the award winning documentaries, Paño Arte: Images From Inside, and Border Visions/Visiones Fronterizos. Ms. Griego is a founder of the Silver Lake Film Festival in Los Angeles. She served on the National Association of Latino Independent Producers (NALIP) board of directors for nine years and currently serves on the NALIP Advisory board.