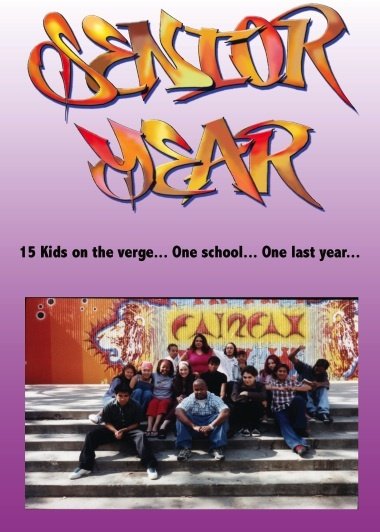 Others have tried to document high school life, but this 13-part series succeeds where those drier efforts failed. High school is a time for experimentation, and finally, a truly experimental filmmaker (David Zeiger) is there."–Entertainment Weekly
Fifteen kids on the verge…
One school…
One last year
Filmed at Fairfax High in Los Angeles, a city and school at the epicenter of the explosion of diversity in America today, Senior Year is the story of a generation on the edge of a new world.
During the 1999/2000 school year, six young filmmakers followed a diverse group of 15 teenagers through their last year in public school. It was a pivotal period for each of them, living on the fulcrum between teenage life and the adult world they face.
The students attended Fairfax High, the most diverse high school in Los Angeles, and each filmmaker spent the entire year with two to three kids, documenting their world. The students were also given cameras to make video diaries throughout the course of the year, creating a whole new level of intimacy and personal storytelling.
Go to the Senior Year web site to see many more clips of the series, read synopses of the episodes and bios of the kids, check out the "Talk Back" message boards, and listen to all the music from the series, including original songs by Boots Riley of the Coup, Rakaa Iriscience of Dilated Peoples, Anna Waronker and many more. Click here to buy the DVD and the CD Soundtrack.
The kids in Senior Year, coming from countries as far flung as the Philippines, Russia, Guatemala, and the United States, are growing up in an urban environment of unprecedented change — a time when cultural boundaries are shifting, erupting and merging worldwide.
They are teenagers — with all the joys, fears and pains of that age that are universal and timeless; yet the landscape of their world is on the cutting edge of a new culture emerging with the millennium. It's a mix that makes for a series that is dramatic and compelling — a landmark broadcast event for teenagers and adults alike.
Senior Year, a 13-part series, was first broadcast in the United States on PBS starting January 11, 2002.
Director's Statement
A few years ago I made a film about my son Danny's junior year in high school called The Band, which aired on P.O.V. in 1998. While I was making that film, Hannah, a friend of Danny's, turned 18. When, on her birthday, I asked her how it felt, she responded "Eighteen is the oldest you will ever be."
She went on to explain that all your life until then, 18 looms as a monumental goal, the pinnacle of youthdom. Never again will you have a goal like that in your life — thus, it's the oldest you will ever be.
Her insight stuck in my head and became the seed for Senior Year, a six-hour documentary series following 15 high school seniors for the entire school year. The nine months of production were completed on graduation day, June 22, 2000.
My goal with Senior Year is to make a series that truly captures that exhilarating and terrifying moment in time that Hannah was describing, and to do it in the particular context of the world inhabited by teenagers today. So I went back to my alma mater, Fairfax High in Los Angeles, and found that it had evolved from a white, middle class, primarily Jewish school with a reputation for sending lots of kids to the Ivy League (myself not included), into a wildly diverse, exciting campus with students from over thirty different countries and just about every walk of life in the city.
I spent one semester at the school meeting dozens of kids to find the ones we would be following, and went to the UCLA and USC film schools to hire a diverse group of young, talented filmmakers to spend a year living in and filming their world. The result, of course, is Senior Year, a series that is both far ranging and extremely intimate, both timeless and timely.
It's timeless because it is about something that, in its essence, everyone either has gone through, is going through or will go through. And it is timely because it is about a generation that is living a life never before seen in this country. This is the generation that has grown up in the intense cultural and racial mix that exploded into many parts of this country and the world starting in the 1980s. For them, race and nationality have a different meaning than they do for their parents' or any previous generation, and "diversity" isn't a concept — it's their world. The kids of Senior Year are on the cutting edge of a new culture emerging in this country, one whose outlines and contours are yet to be known. They are neither a melting pot nor a salad bowl — they are individuals who, if we listen, can be our teachers and guides into the new century.
David Zeiger, Director
Boris
Danielle
Elizabeth
Elizabeth
Elvis
Jean and Maria
Jacqueline
Jen
Jet
Dean Bogue and Karla
Kendra. Photo by Jerry Henry
Kendra and her prom date. Photo by Jerry Henry
Kendra in the library. Photo by Jerry Henry
Liz. Photo by Jerry Henry
Maria and Jean. Photo by Jerry Henry
Unity. Photo by Jerry Henry
Watch the music video to Ozomatli's theme song for Senior Year, Sueños in Realidad, here: